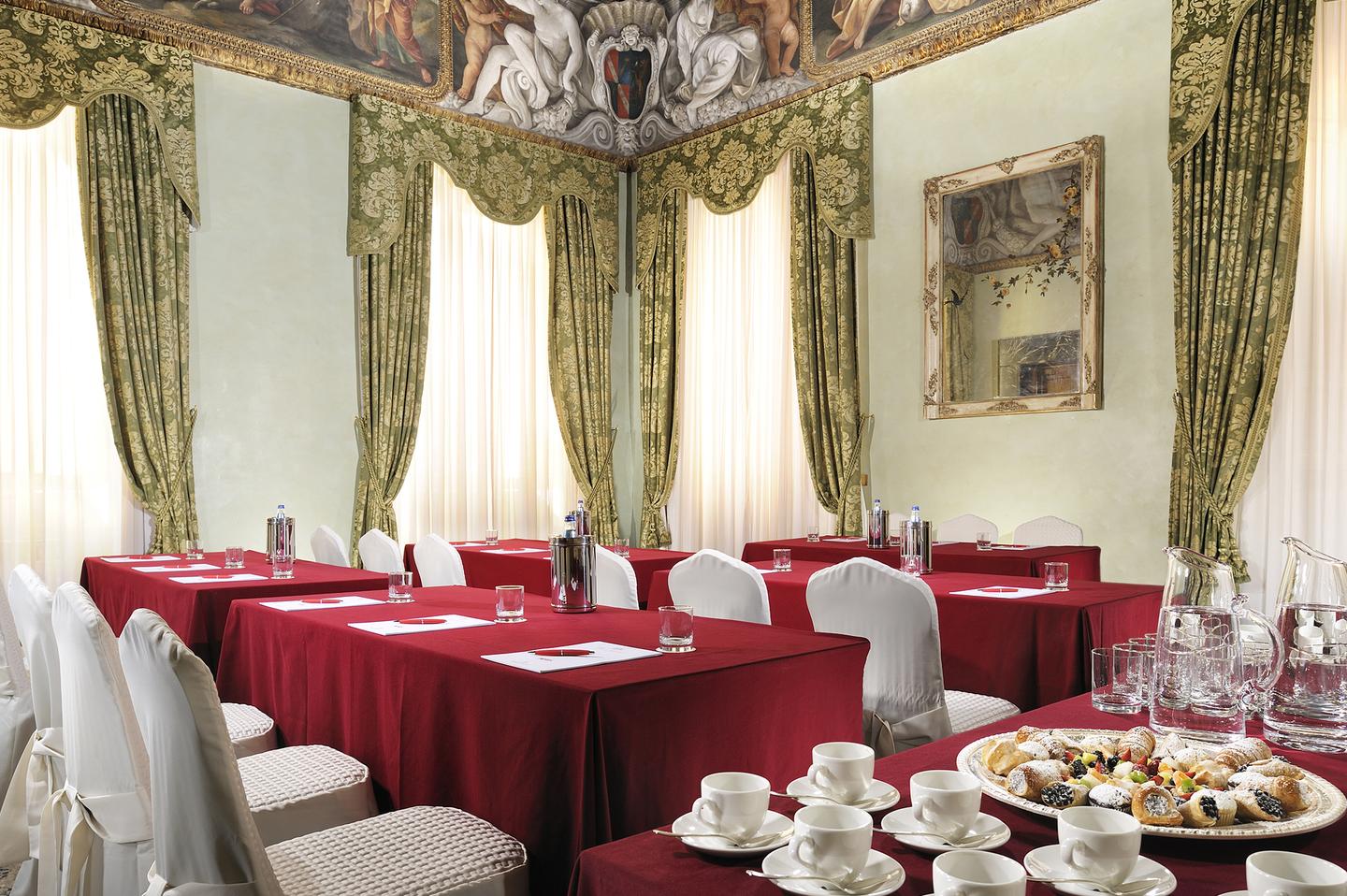 The Meeting Rooms
Roof Garden
An exclusive view over the rooftops of Rome
The perfect backdrop for romantic dinners, parties, catwalk shows, cocktail evenings or wedding banquets, the Roof Garden of the Penthouse Suite at Hotel d'Inghilterra is set within an ensemble of quite unrivalled beauty, in the heart of Rome. Perfect for any prestigious occasion, the Roof Garden affords a compelling view over the rooftops of Rome and their flower-laden terraces. It is a perspective that, in the distance, even takes in those iconic monuments that have become the symbols of the city.
The garden extends across a surface area of 200m2 and is adorned by flowering shrubs, creeping ivy and olive trees, and the ambience is rendered all the more beguiling by the aromas of oranges and jasmine the delight the senses.
---
Pius IX Room
A Renaissance backdrop for your events in Rome
There are two places that in next-to-no-time can summon up entire centuries of history. One of these is the Pius IX Room in the stunning Renaissance palazzo located opposite Hotel d'Inghilterra.
Renaissance palazzo located opposite Hotel d'Inghilterra. Situated on the first floor of Palazzo Torlonia, it is the perfect venue for all types of events, from private dinners to business meetings. This resplendent, 46m2 room is overflowing with art, just like the city that plays host to it: from the original 17th-century frescoes to the exquisite furnishings, to say nothing of the way the light dances across the bas-relief decoration on the ceiling. Moreover, the room is subdivided into functional spaces that make the most of the sense of history that abounds.
The room also benefits from wonderful natural light and can accommodate up to 50 seats or up to 60 people standing, cocktail in hand.
---
Inghilterra Hall
Exclusivity, luxury, history
The Inghilterra Hall, which has recently been renovated and is larger than the nearby Pius IX Room, is the ideal space for a cocktail party, an important meeting or an intimate private dinner.
Situated on the first floor of Palazzo Torlonia, its windows look out over the time-honoured Via Bocca di Leone, right in the centre of Rome, just a few yards from the famous Spanish Steps. Its walls are enriched with paintings and decorations, sumptuous furnishings and warm natural light that creates a fascinating ambience evoking another age.
Extending to 90m2, the hall can accommodate up to 80 seats or up to 150 people standing, cocktail in hand. It also offers the opportunity to install a videoconferencing system connected to the Pius IX Room, for those business events or conferences with large numbers of delegates in attendance.
Meeting Rooms
Area
(mq/sq.ft)
Length x Width
(mt./ft.)
Height
photos
roomplan
Sala Pio IX
46
495.14
7,35 x 6,25
24 x 20,5
5.3
17.4
50
20
18
25
60
45
view
Salone Inghilterra
90
968.8
12,8 x 7
42 x 23
5.3
17.4
70
40
40
40
150
80
view
Penthouse Suite
35
376.7
8,5 x 4
28 x1 3,1
2.7
9
20
-
20
20
40
30
view
Cafè Romano Restaurant
48.5
522
9,38 x 5,2
30,7 x 17
2.7
9
-
-
-
-
80
45
view
Roof Garden
200
2153
10 x 20
33 x 65,6
-
-
80
-
-
-
150
80
view
Bar
-
-
-
-
-
-
-
-
-
-
20
-
view
For more meeting options and hotels go to our Global Meeting Website