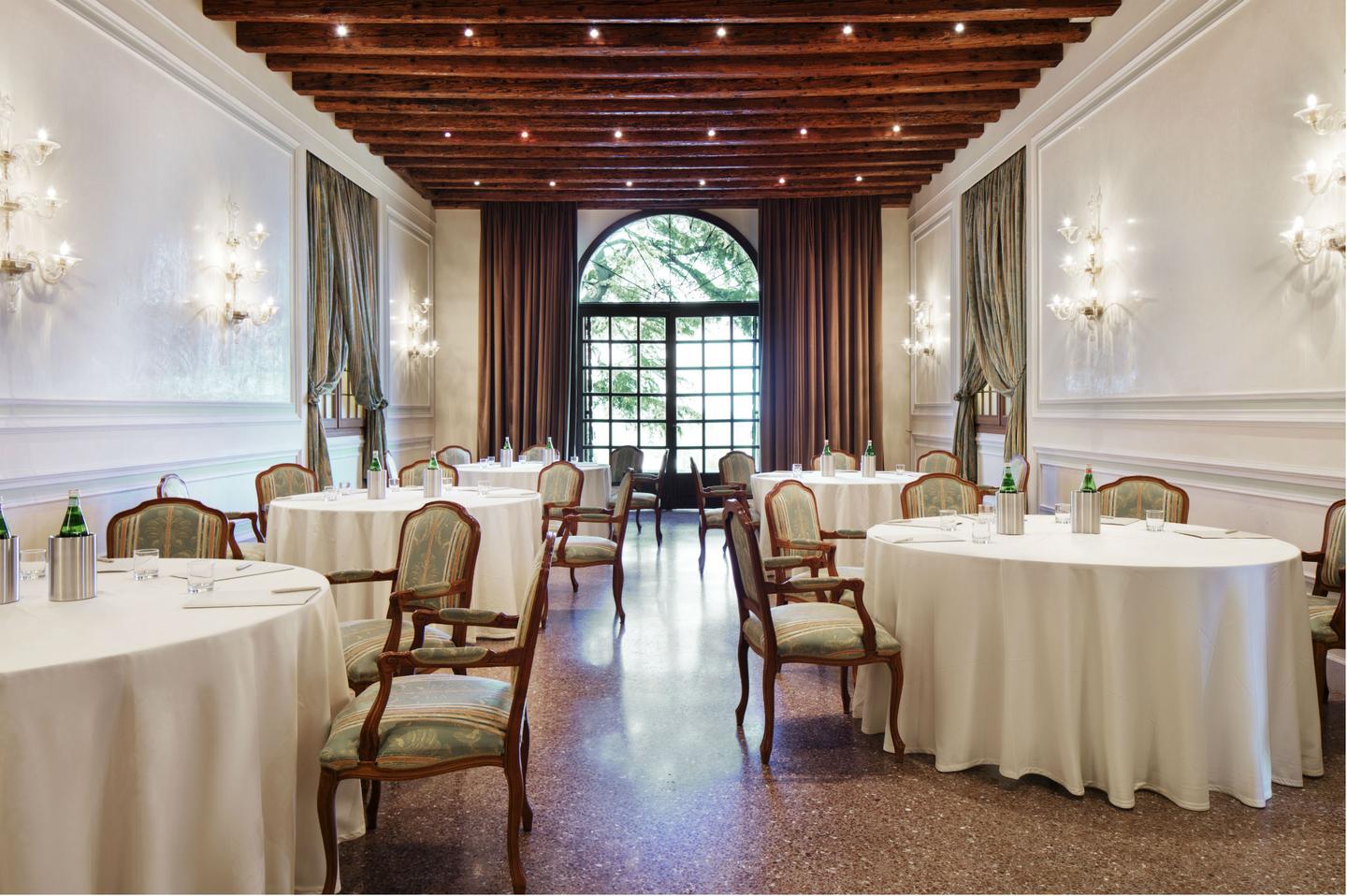 The Meeting Rooms
Gran Salone
This is the largest room at Hotel Villa Michelangelo, whose 400 square metres of space can host up to 350 people. It is naturally elegant, tastefully decorated and skillfully lit, with beautiful views of the garden. The perfect choice for extremely stylish events, from business meetings to gala receptions, it comprises three connecting rooms, all flooded with natural light.
Sala Michelangelo
With an area of 165 square metres, this room can accommodate up to 130 people. The original Venetian marble floors and the large windows that open onto a terrace make it the ideal setting for prestigious events. During the winter, it offers a warm, refined atmosphere, while in the summer, the panoramic terrace overlooking the pool can also be used as a stage for musical performances or shows.
Sala Goldoni
Originally part of the eighteenth-century Gran Salone, the Sala Goldoni room takes its name from the playwright who described the passion of aristocrats of the time for luxury and entertainment in his tongue-in-cheek comedies, written in Venetian dialect. With 148 square metres, it can accommodate up to 120 people for a banquet-style meal and offers a simple yet refined atmosphere combining charm and functionality, suitable for any type of event.
Sala Tomi
An exclusive room offering unforgettable experiences, it is a tribute to the noble family who built the villa. Ideal for any type of event, from receptions to private parties, this meeting room offers 72 square metres of space and can accommodate up to 80 people.
Sala Teatro
This is a real theatre, an unusual, fascinating venue and certainly one of a kind. Commissioned by the Tomi family, the villa's eighteenth-century owners, to host theatre performances, the Sala Teatro still retains its ancient charm. The ceiling features wooden beams and large Murano glass chandeliers, the walls are decorated with stucco, while exquisite drapery frames the windows and the proscenium. This charming theatre measures 101 square metres and can seat up to 90 spectators.
Sala Caminetto
The small, enchanting Sala Caminetto has a quiet, intimate ambience, offering guests privacy and a feeling of exclusivity. The 33-square-metre room can accommodate up to 25 people. Its elegant antique furnishings, exposed-beam ceiling, Venetian marble floor and fireplace provide the warmth, charm and focus that a small private event requires, whether it's a high-profile meeting or a dinner.
Sala Gioielli
An elegant location by the pool.
The Sala Gioielli overlooks the pool area of Hotel Villa Michelangelo. Embellished with parquet floors and classic furnishings, it is a delightfully elegant private space, ideal for events that can continue in the enchanting outdoor area, for cocktail parties or for ceremonies that do not want to give up poolside aperitifs even in the winter months.
Sala Melograno
The 60-square-metre Sala Melograno welcomes guests with an ambience of unique charm. The meticulous restoration has brought new splendour to the original structure, with large arches and Venetian marble floors. The carefully chosen antique furnishings and lighting create charming effects of light and shade, contributing to an elegant and homely atmosphere, ideal for refined banquets and cocktail parties.
Sala Portico
Originally part of the villa's barchessa, an outbuilding typical of Venetian villas, this large 200-square-metre Sala Portico with exposed beams has wide sliding windows that forge a direct connection between the elegant interior and the park, with its abundant citrus groves, olive trees and pomegranates. It is the ideal setting for receptions, cocktail parties and aperitifs, for up to 120 guests.
Pool & Terrace
Reflected water in the quiet of nature.
An exclusive, relaxing, open-air swimming pool and a large panoramic terrace that faces the beautiful valley studded with ancient olive trees – Hotel Villa Michelangelo's offering extends to this magical, stylish venue for your events and ceremonies, immersed in the greenery and yet still in the immediate vicinity of Vicenza.
The 400m2 poolside terrace also features a stage for musical performances, DJ sets and all other types of live entertainment. It is also equipped with a corner bar and a retractable awning that can be used in the event of bad weather or for events scheduled during the colder months.
Meeting Rooms
Area
(mq/sq.ft)
Length x Width
(mt./ft.)
Height
photos
roomplan
Gran Salone
400
4305.56
23 x 17
75,4 x 56
3
10
300
180
-
225
350
300
Sala Michelangelo
165
1776.05
17 x 9,7
56 x 32
3
10
120
90
40
85
130
120
view
Sala Goldoni
148
1593.06
17 x 8,7
56 x 29
3
10
100
60
30
77
120
90
view
Sala Tomi
72
775
15 x 4,8
49,2 x 16
3
10
50
-
20
43
80
50
Sala Teatro
101
1087.15
14,3 x 6,6
47 x 22
4.4
14.4
90
30
30/40
50
-
-
view
Sala Caminetto
33
355.2
6,5 x 5
21,3 x 16,4
2.8
9
-
-
18
15
25
18
view
Sala Loggia
70
753.5
-
-
4
13
-
-
-
-
70
-
Sala Gioielli
63
678
14 x 4,5
46 x 15
2.4
8
40
20
20
-
-
-
Sala Melograno
60
646
-
-
3.5
11.4
-
-
-
-
60
40
view
Sala Portico
200
2153
-
-
4.5
15
-
-
-
85
120
100
view
Area Piscina
400
4305.56
-
85,3 x 47,5
2.8
9
-
-
-
85
150
100
view
For more meeting options and hotels go to our Global Meeting Website