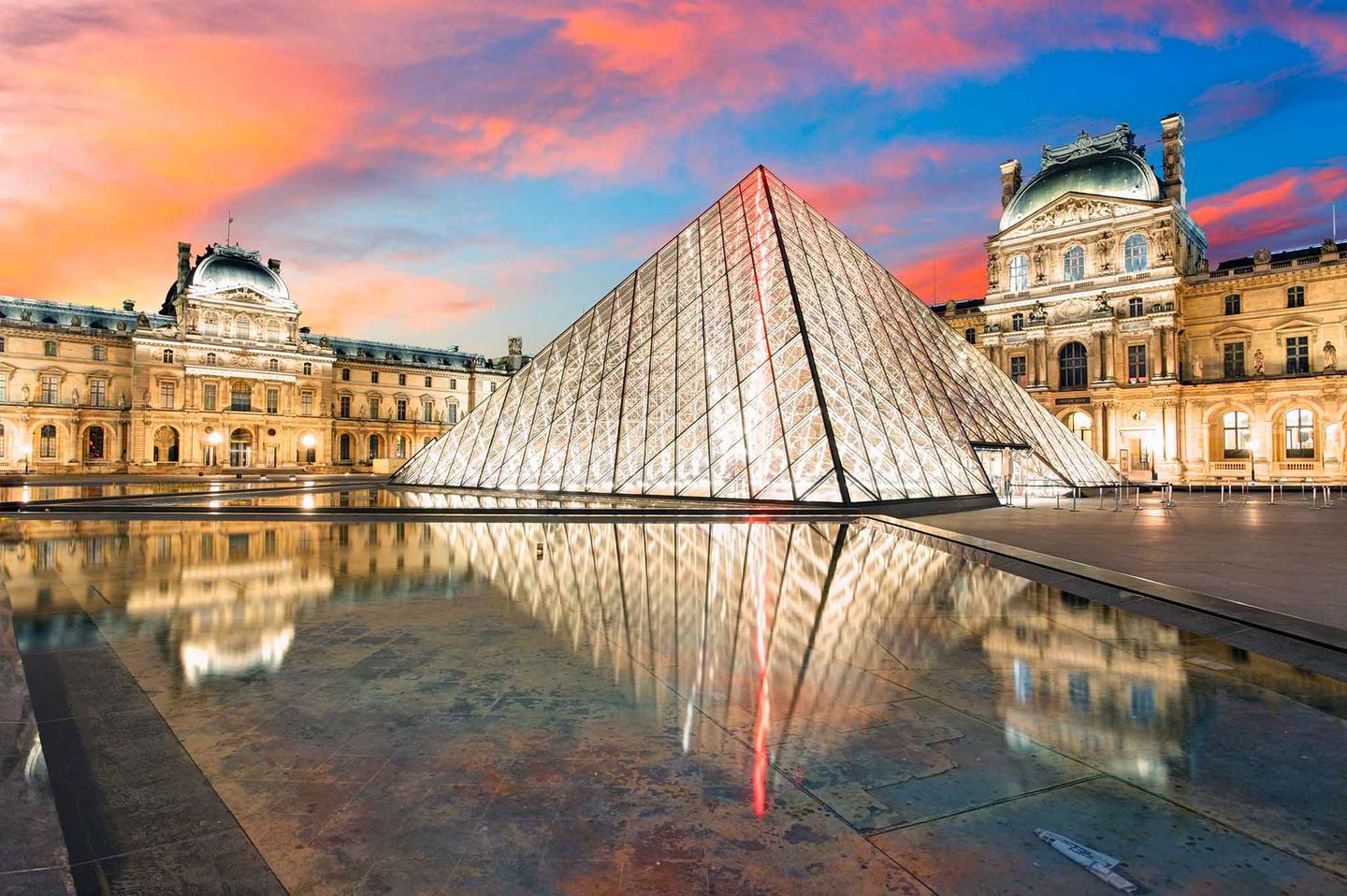 The Louvre Museum in Paris
Not far from the Castille Paris Hotel, the Louvre Museum in Paris is one of the most famous in the world, home to over 380,000 objects and works of art.
The museum's pride and joy is its 11,900 paintings, 6,000 of which are on permanent display, representing the second largest collection of paintings in the world.
Among the masterpieces on display, the Italian school stands out with the leading exponents of the Renaissance, including Leonardo da Vinci (the Mona Lisa, The Virgin of the Rocks and The Virgin and Child with St. Anne are all on display here), Michelangelo, Raphael, Botticelli and Fra Angelico.
There are also numerous works by the French school (represented, among others, by Paul Cézanne, Jean Clouet and Eugène Delacroix), the Flemish and Dutch schools (with Jan van Eyck, Pieter Paul Rubens, Jan Vermeer) and the Spanish, German and English schools.
The wing dedicated to ancient art is also significant, with artworks from Eastern civilizations, ancient Egypt, the Roman Empire and ancient Greece.
The main entrance to the Louvre is the Napoléon Hall under the pyramid, with the ticket offices and access to the building's three wings.
The other entrances are the Passage Richelieu from Rue de Rivoli, the Porte des Lions, which overlooks Quai François Mitterrand, and the Jardin du Carrousel.
The history of the Louvre 
The museum takes its name from the Louvre Palace, a fortress built at the end of the 12th century during the reign of King Philip II.
In 1594, King Henry IV combined the Louvre Palace and the Tuileries Palace, a project that required the construction of the Grande Galerie, which then united the Pavillon de Flore at the southern end of the complex with the Pavillon de Marsan to the north.
The palace was the royal seat until the 18th century, when Louis XV began its transformation into a museum. 
The definitive transformation began, however, in 1791 with the French Revolution. During the following years, the museum was enriched with numerous works taken following the victories of the French revolutionary army.
In the 1980s, Ieoh Ming Pei renovated the entire Louvre, adding the famous glass and steel pyramid to illuminate what would become the new main entrance and the Carrousel du Louvre, a veritable underground city with shops, bars, services, auditoriums, a large bookshop and a room for temporary exhibitions.
From October 24th 2019 to February 24th 2020, the Louvre Museum in Paris celebrates the 500th anniversary of Leonardo da Vinci, the Reinassance genius, with an extraordinary exhibition.