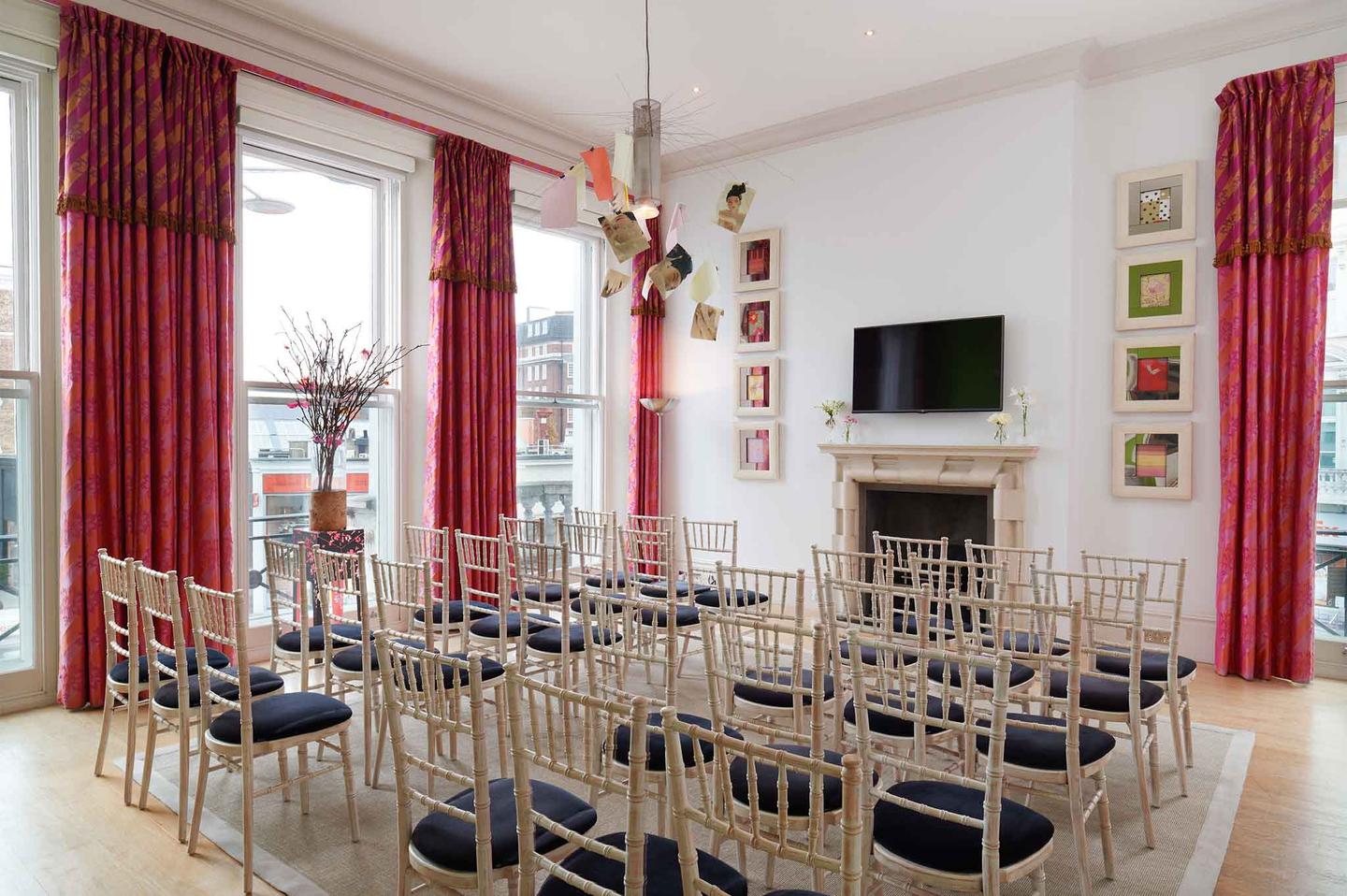 Our meeting rooms
Gallery 
The floor-to-ceiling windows of the hotel's largest event space (36 square metres, hosting up to 40 guests) face onto Cromwell Place, with beautiful views overlooking South Kensington. This versatile space, which can be swiftly transformed from a bright, cheery boardroom to a glamorous lounge, is ideal for board meetings, press conferences, baby showers and cocktail parties. Lime green walls, rainbow carpet, contemporary murals, fabric hanging lights and colourful floral displays create an enchanting setting.
In addition to the main room, the Gallery includes an adjacent room (20 square metres, hosting up to 12 guests) that can be laid out as a boardroom or lounge, serving as a wonderful venue for fashion events, TV interviews, meetings, cocktail parties and private receptions. These two event rooms can be combined to form one large space, perfect for larger functions.
---
Private Dining Room
Bright and stylish, the private dining room next to La Trattoria by Alfredo Russo can host up to 15 people and seat 12. It is particularly suitable for business meetings or any event where privacy and tranquillity are a must.
---
Drawing Room
The perfect venue for an informal meeting or elegant evening reception. The traditional drawing room is given a contemporary flourish with bold brass fittings that complement the grand, roped drapes, while the floor-to-ceiling windows illuminate the vibrant red sofa. Can host up to twenty guests.
---
Library
With its dark wood panelling, classic fireplaces and vintage wooden chests, the library evokes the atmosphere of a classic English club. The perfect setting for informal meetings, receptions and cocktail parties for up to 15 guests.
Meeting Rooms
Area
(mq/sq.ft)
Length x Width
(mt./ft.)
Height
photos
roomplan
Gallery (1)
36
387
-
-
-
-
40
-
16
30
40
18
view
Gallery (2)
21
226
-
-
-
-
10
-
-
10
12
10
Private Dining Room
23
247
-
-
-
-
12
-
-
10
15
10
view
Drawing Room
29
312
-
-
-
-
15
-
-
12
20
12
view
Library
26
280
-
-
-
-
10
-
-
10
15
10
view
For more meeting options and hotels go to our Global Meeting Website