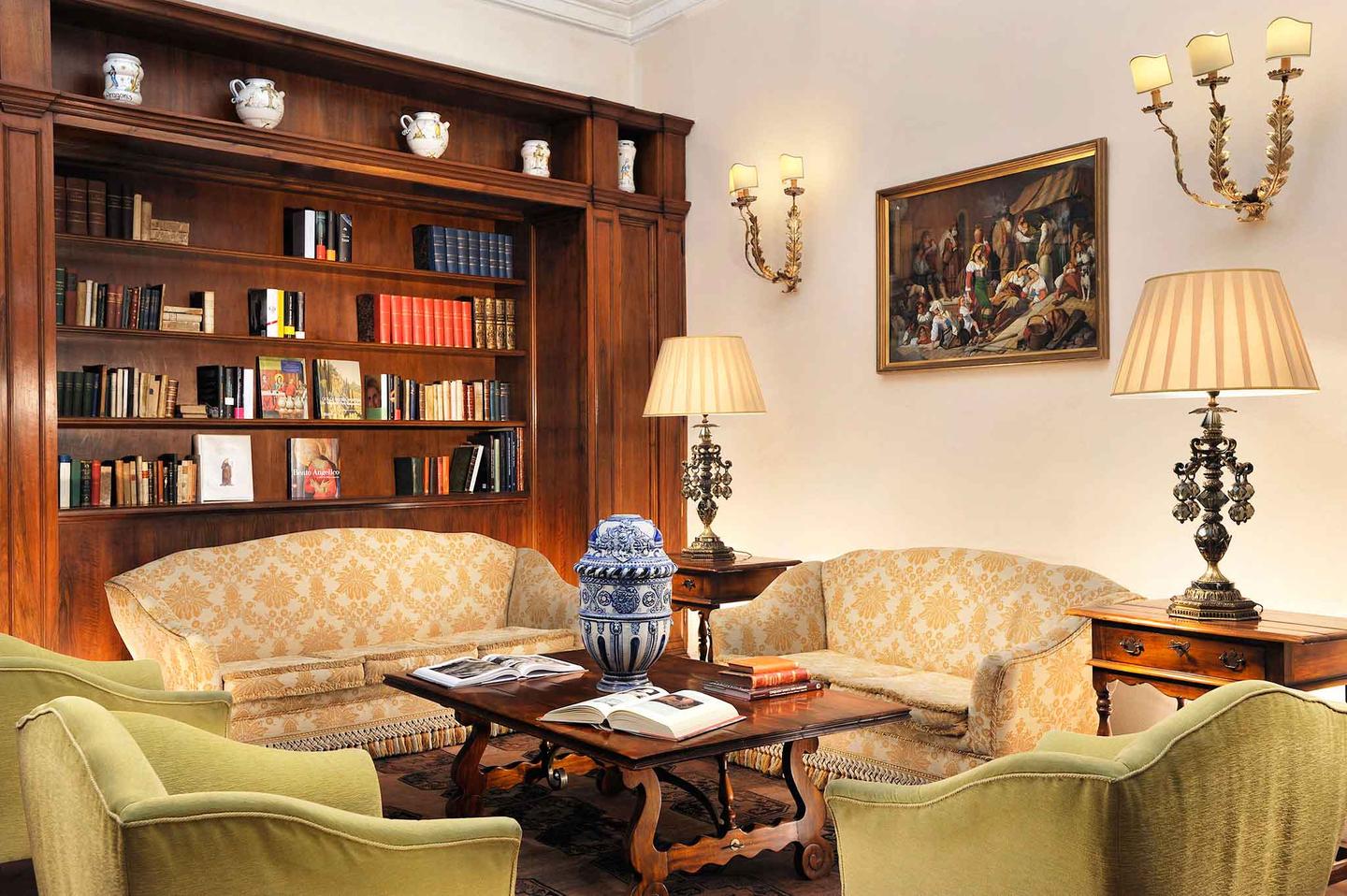 The Meeting Rooms
Festival Hall
Elegant and sumptuous, the Salon has a maximum capacity of 110 people and has hosted many great events over the years: from high-society wedding receptions to State summits and meetings of illustrious personalities. Every event organised in this magnificent salon of 105 square metres, with its splendid 16th-century trompe-l'oeil, beautiful Murano glass chandeliers and marble floors, becomes a truly unique occasion.
Olimpia Room
Exclusive and welcoming, the Olimpia Room is the ideal venue for a private event, corporate meeting or cocktail party. The quintessence of luxury, it is at the same time extremely warm and welcoming. Its beautifully frescoed high ceilings, exquisite furniture and carefully selected antiques create an atmosphere of refined elegance. With 30 square metres of floor space, it can accommodate 20 guests around the table.
Library
Since the Palazzo was first constructed, the Library has been dedicated to contemplation, reading and tranquillity. The elegant, comfortable furniture and inviting intellectual atmosphere make it the perfect place for small private gatherings. Measuring 36 square metres, it can accommodate up to 12 people for a cocktail party.
Gori Room
The Gori Room can be used for prestigious events as well as for business meetings and private parties. This refined salon, with its 82-square-metre space, decorated in warm, welcoming colours, with precious chandeliers, high elegant ceilings, can host a cocktail party for up to 30 guests.
Meeting Rooms
Area
(mq/sq.ft)
Length x Width
(mt./ft.)
Height
photos
roomplan
Salone delle Feste
105
1130.2
13,5 x 7,6
43,14 x 24,9
8.45
27.7
100
40
35
40
110
100
view
Olimpia
31.85
342.8
6,9 x 4,55
22,6 x 14,9
5.7
18.7
-
-
-
-
20
20
view
Library
36.3
390.7
5,85 x 5,6
19,2 x 18,4
8.5
27.9
30
12
-
-
12
16
view
Gori 1° e 2°
82.3
885.8
7,10 x 11,3
23,3 x 37,1
5.5
18.04
30
12
-
-
30
45
Corte SaporDivino
96
1033
-
-
-
-
50
-
-
-
80
70
view
Wine Cellar
22
236.8
5,35 x 4,20
17,5 x 13,7
5.5
18.04
-
-
-
-
25
12
view
For more meeting options and hotels go to our Global Meeting Website