Treatments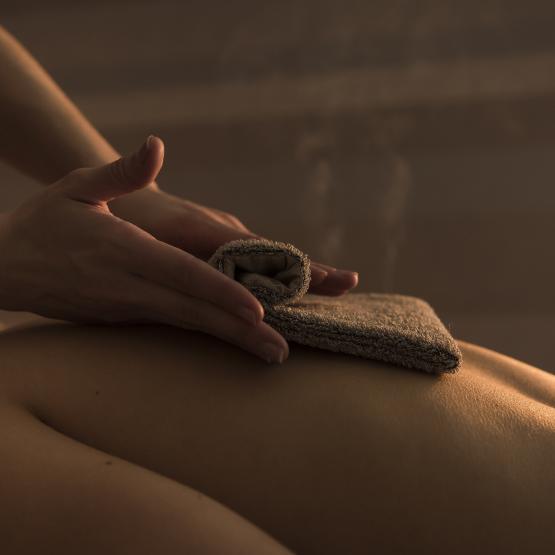 PURIFYING SCRUB WITH BELDI BLACK SOAP
Breathe in steam, purify the mind
A journey into the heart of the oriental tradition of the Hammam. Associated with the exfoliating action of the Kassa glove, this ancestral procedure allows you to deeply purify the skin to make it soft, silky, and delicately scented.
20 min | € 65 - Bookable by phone
---
 
POLISHING PAPAYA PUREE SCRUB
Velvety skin and a harmonious mind
A scrub technique taken from a Siam ritual, using a smooth, fine-grained Papaya Puree®. Gently exfoliated, your skin regains its radiance and remains lightly veiled in a delicious fragrance.
50 min | € 115 
---
 
ENERGIZING AROMATIC SCRUB
Rediscover soft, silky skin
Gift yourself a moment of wellness inspired by the beauty and recipes and treatments from the island of Java. Let yourself be carried away by the delicate scents of this energizing scrub based on spices and sea salts.
20 min | € 65 - Bookable by phone
---
SUBLIME SCRUB WITH TAHITIAN MONOI
Regenerates the skin, awakens the mind
Inspired by the islands of Polynesia and perfectly suited to the most sensitive skin, this traditional preparation of Monoi oil is made from soaking Tiarè flowers, sugar, and coconut powder.
50 min | € 115
---
BRAZILIAN SLIMMING AND FIRMING TREATMENT
Regain your shape, listen to your balance
From traditional Brazilian and Indian medicines, this treatment combines kneading, friction and tapping movements to detoxify and drain the tissues. A combination of two beauty rituals: the Bangalore Ritual (India) and the Bahia Ritual (Brazil).
50 min | € 130 euro 
Offers
Discover our special offers