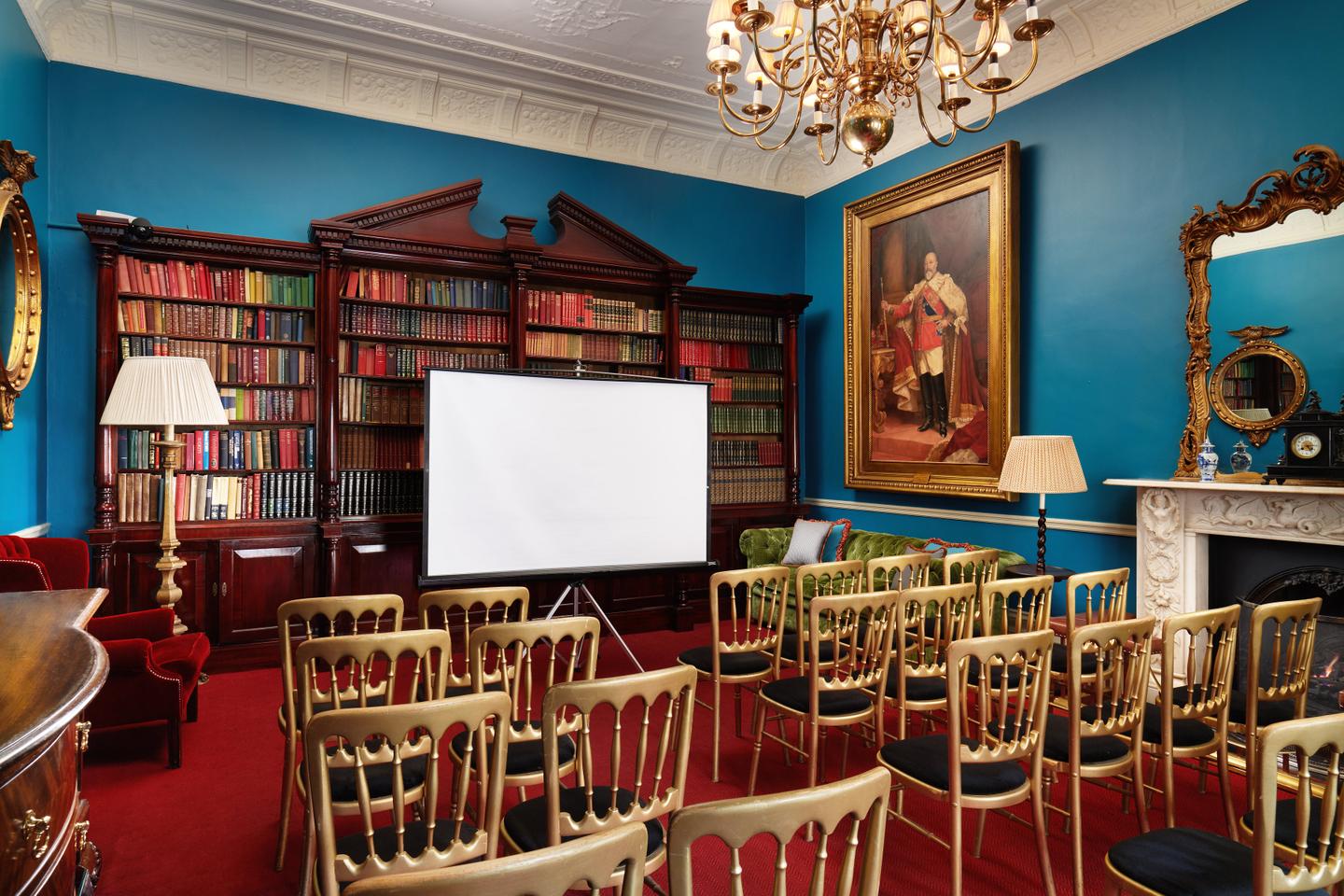 Meeting Rooms
The Library
A large, traditional drawing room on the hotel's ground floor, the Library is an exquisitely elegant setting for a business meeting or dinner party of up to twenty-four people. Natural daylight floods the room through three large sash windows. The grand mahogany bookcase, intriguing oil portraits and original ornate fireplace make this a unique, intimate space for any private function.
Mulberry Room
The wood panelling and natural light filtering down from above makes The Mulberry Room a dramatic setting for that all-important meeting. It offers an impressive array of modern facilities.
Tapestry Room
A sweeping staircase from Bar 190 leads down to the impressive Tapestry Room. Flanked by two vast stone fireplaces, it is replete with panelled walls, gilded mirrors and French Verdue tapestries. An oversized button-backed Chesterfield sofa, library chairs and versatile lighting make this the perfect private space. Used for a variety of different events, from London Fashion Week catwalks to private dinners and financial planning meetings, The Tapestry Room lends itself to the ordinary, the extraordinary and everything else in between. 
Filming and photoshoots
The Gore hotel is the perfect backdrop for filming and photoshoot locations. We offer flexibility to ensure that your shoot goes to plan. Whether it's period locations for filming, photography, television, drama, commercials, interviews and events. Our luxury boutique hotel in Kensington London has Individual Rooms set in historic themes with antique furnishings and decorations throughout the hotel.
Meeting Rooms
Area
(mq/sq.ft)
Length x Width
(mt./ft.)
Height
photos
roomplan
Library
41
441
-
-
-
-
24
-
14
14
40
22
view
Mulberry Room
28
301
-
-
-
-
20
10
-
10
30
16
view
Tapestry Room
71
764
-
-
-
-
50
20
20
25
100
30
view
Mulberry & Tapestry
97
1044
20,70 x 9,90
67,91 x 35,77
2.8
9.19
-
-
-
-
130
-
Bar 190
90
969
13,00 x 7,90
42,65 x 25,92
2.8
9.19
-
-
-
-
70
-
view
Mulberry & Tapestry & Bar






-
-
-
-
200
-
For more meeting options and hotels go to our Global Meeting Website